Business Algorithms P. Ltd is a 30 yr old company registered under companies act, mainly in sales & service of IT products, diversified in solar business since 2012. We are constantly innovating products in solar energy business to improve the performance & making it more cost effective. Following are the 2 major initiative by us.
1. Floating Solar Power Plants :
2. Solar Roads :
When we shift solar power plants on water, it give multiple advantages like increased power production, reduction in water evaporation, less dust collection hence less maintenance cost, less porn to theft - Lower security cost, saves valuable land assets etc.
Floating Solar Power Plants :
Business Algorithms P. Ltd has successfully developed and implemented Central India's 1st commercial floating solar power project at Reliance Power Plant Butibori on their feed water reservoir.

This plant was commissioned on 6th June 2016 and has been giving excellent performance since then. This was widely covered by Times of India (http://timesofindia.indiatimes.com/city/nagpur/1st-floating-solar-power-unit-in-region-getsgood-results/articleshow/52859264.cms)
MOU with GERMI
With this GERMI ( Gujarat Energy Development & Management Institute, Ahmadabad ) invited us for signing MoU for development of floating solar panels and solar Roads. (http://www.germi.org/downloads/GERMI%20and%20B%20Algo-final.pdf)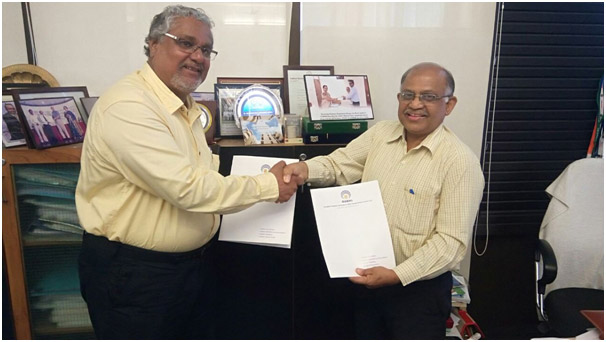 Director Mr. Sudhir Budhay (left side ) signing M oU with Director General of GERMI - Dr. T. Harinarayan (Right side )
Solar Roads :
Multiple trials are conducted on developing transparent load bearing tough surface for roads. Presently Business Algorithms P. Ltd is working on developing toughened glass for walk ways and campus roads to handle 500 kg load.
Trials are under progress and the results shall be shared with GERMI for testing & approval of design.
Net Metering In Maharashtra:
Director Mr. Sudhir Budhay realised the need of net metering in Maharashtra in 2012 as grid connectivity was only available for 1 MW and above size of projects and that too was at 33 kv level. This is beyond scope of any individual as 1 MW requires 5 archers of land, about 10 Cr investments (that time in 2012) and finally power produced would have been huge for captive consumption for any normal consumer.
Hence filed a PIL with MERC ( Maharashtra Electricity Regulatory Commission ) on 28/6/13 and was accepted as case no 86 of 2013 by MERC, heard finalised on 25/11/13. A committee was formed to study and recommend technical and commercial guidelines for net metering. Committee was consisting of representatives from all distribution companies, SLDC, Tech representatives from centre, MEDA and Mr. Sudhir Budhay was also the member on the same.
After multiple meetings, Net metering policy was rolled out on 9th sept 2015.
Solar powered Mobile Van :
Prototype development of solar electrification of Mobile Health Van for Ayushman Bharat. This was inaugurated by Hon. Chief Minister Devendra Phadnavis during Monsoon session on 20 July 2018.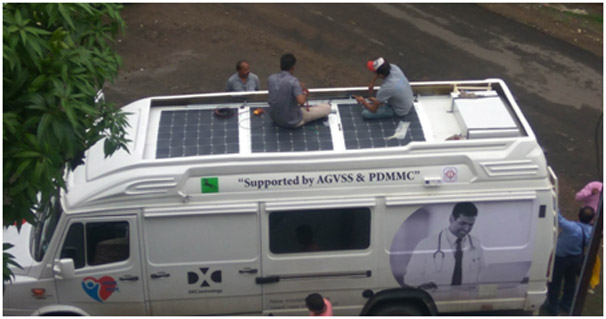 CSR Activity : Dolar Village Electrification :
Did electrification for Dolar Village in Dharn tahsil of Amravati district as CSR activity. Dolar is a tribal village in core zone of "Melghat" forest.
https://www.youtube.com/watch?v=AJrTFrhrl_A&t=4s
Other Achievements :
1. Successfully completed over 2.5 MW cumulative solar installations till date.
2. Empanelled with MNRE & MEDA for Maharashtra
3. Working as project consultant for Forest Development Corporation of Maharashtra ( FDCM) & MEDA.
4. Member of Net metering committee of MERC.